Our Products
Welcome to our Products area. We have 3 categories for your enjoyment. The links for the categories are listed above in the right navigation area. By clicking on "Add to Cart" you will load a summary page which will list your selected product. If you have not completed your order, just select "Continue Shopping" at the top or bottom of summary page to continue. When you have completed choosing your products, select "Add Shipping" to calculate your delivery charges. A page will load showing you your "Shipping Methods" and you can select the method of your choice. Upon completion you will return to your summary page, showing your order total including your delivery charges. You are now ready to proceed to "Go to Payments". This selection will load our personal information form and finish processing your order.
E-Book orders are handled through a separate cart system that enables us to get your download ready as quickly as possible.
Thank you for visiting our Online Marketplace.
Books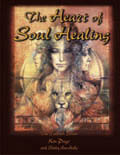 Third Edition 2004: The Heart of Soul Healing
Over 425 pages. All new Third Edition contains additional chapters and updated information from new work with the collective consciousness of today. Filled with Ken's personal journey of initiation and discovery, this book includes insight in how the Soul works and the illumination of the Heart. Ken also discusses the development of his innovative system of transformation known as Heart & Soul Healing. Contains specific directions on spirit release and includes accounts from actual case studies. Over 150 dramatic illustrations. Prerequisite to the 9-Day Practitioner Training (included with your tuition deposit)
ISBN: 0-9649703-2-5 $29.95 US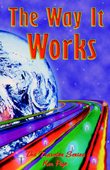 Ken's Best-Selling Technique Handbook: The Way It Works
The answer to the ultimate question: Why am I here on Earth? What is my purpose? Ken's simple and straightforward answers may surprise you. The Way It Works offers clear techniques and exercises, giving you the answers to lead you down a fascinating road of self discovery and personal adventure.
This timely book explores such exciting topics as earth changes, the collapse of time, communicating with your Higher Self, experiencing dimensional INscension and instantaneous creation, taking your personal power, and using the technique of the Living Light Breath as a gateway to Unity Consciousness.
ISBN: 0-9649703-6-8 $6.95 US
**Order this Book in Polish by contacting Akasha

order and download: $3.00 US

German: Der Weg zum Gelingen - $3.00 US



Slovene: Kako se svet vrti - $3.00 US



Dutch: Hoe eenvoudig het kan zijn - $3.00 US



French:   The Way It Works (Version Francais) - $3.00 US

Espanol: Así Funcionado Todo - $3.00 US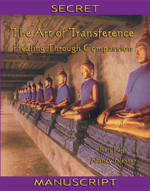 Secret Manuscript: The Art of Transference - Healing through Compassion
When the 'giving' of ourselves to others begins to hurt us, it's time to find out what is really going on. Discover easily why you sometimes feel overwhelmed in the world around you; why - when helping others, you feel drained or get sick. We can show you how you can be completely safe in any type of energy exchange - not pick up any residual from any situation - feel better around your families and in your relationships - stay balanced in your every day life - remain healthy to continue being of service to yourself and to others. Everything really is different than we have been told.
Find out the truth for yourself. There is a better way of living. There is a better way to BE who you are, where you are and why you are.
ISBN: 0-9770842-3-X $29.95 US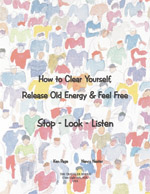 How to Clear Yourself, Release Old Energy & Feel Free
authors: Ken Page and Nancy Nester
Stop-Look-Listen
Manual includes specific information about changing the perspective of what is happening. Stop asking others what they think, LOOK for the answers provided, LISTEN with discernment to your creative higher self. Techniques for detecting and changing negative energy, mastering and claiming your own space, energetic looping with others, becoming energetically healthy, conscious and subconscious addictions, the energy of love and much more.
ISBN: 0-9770842-7-2 $11.95 US

order and download: $6.00 US

Slovene: Kako se Oistiti, se Osvoboditi starih energij in Obutiti Svobodo - $6.00 US
- NOW available for digital download on Amazon.com, Barnes & Noble Booksellers and Apple.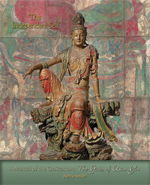 The Independent Self - a Manual of the Chakras and The Gates of Quan Yin -
author: Nancy A. Nester
The Independent Self brings ancient wisdom and esoteric writings together. It includes the history and myth of Quan Yin together with teachings about the main Chakras, Astral & Divine Chakras and the Backside Chakras. Together with Quan Yin's sacred (Ninja) gates of self-empowperment, you can bring about the balance of your masculine and feminine in order to find the compass - the true center point - in your own life. The information in this book is not just about awareness, compassion and healing - it is about life and its fears. Contains more than 89 color images and full color pages throughout.
ISBN: 978-1-61005-026-5 $34.95
- NOW available for digital download on Amazon.com, Barnes & Noble Booksellers and Apple.

order and download: $ 18.00 US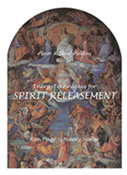 Heart & Soul Healing - Energy Techniques for Spirit Releasement
The vibration of the Angelic realm is much lighter than the density of our physical world. In order to help lost souls, it has been necessary for angelic vibrations to align with our human natures. In this book, Ken Page & Nancy Nester provide a history of spirituality, man's search for soul, karma and darma, space-time continuum, addictions and the energetics present within each of us. Chapter topics include: factors in soul confusion - soul fragments; multiple personality disorder-dissociative disorder; freeing pieces of spirits or souls trapped in the past; the demonic- negative non-human energies; psychic attack; witchcraft, spells and curses; techniques for releasing energy imprints, entities, discarnate souls and earthbound spirits; degrees of possession and spirit attachment, and much more. Also provides easy techniques to balance your energy, change your vibration and feel safe in your own space.
ISBN: 0-9770842-0-5 $19.95 US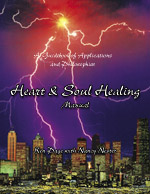 Guidebook of Applications and Philosophies: Heart & Soul Healing Manual
More than just a manual - this guidebook is fast becoming a daily introspective journal, asking you to move even deeper to explore your inner being. Includes detailed information about accessing the whole brain, moving beyond the senses, moving out of polarities, creation and creatorship, the Living Light Breath, how we perceive - learn and communicate.
ISBN: 0-9649703-3-3 $19.95 US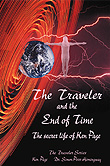 Autobiography: The Traveler and the End of Time -- The Secret Life of Ken Page
Contains dozens of fascinating and inspiring true stories, from the life of Ken Page. Starting with his humble beginnings as a seven year old entrepreneur, through his years as a millionaire businessman, Ken's story culminates in a dramatic series of miracles, tragedies and triumphs, all leading to his successful and inspiring healing practice today.
ISBN: 0-9649703-1-7 $11.95 US
Graphic Charts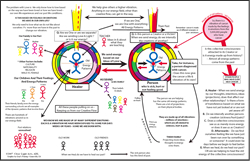 Evolution of the Soul - Pathway to the Soul's Purpose on Earth(series of 8 charts) 12" x 18" full color (UV coated on front)
Chart One is the simplest of all the charts (examples below) - it shows the beginning of our journey in helping anyone else. A full description will give you more insight into the graphics and flow of this chart.
The balance of the charts become increasingly more dynamic in the way the information is presented. Together with written descriptions, these charts provide:
the answers on karma
the dynamics of all energy
time changing reality
how to find the parts of us that are lost
releasing all fears
releasing attachments with others
the truth about the Akashic records
how we affect the weather
how to change your past completely
how to take all your own power and keep it safe
how to find the balance of your male and female aspects
and much more...
Chart One Chart Two Chart Four Chart Seven
(full descriptions are provided on the back of each chart)
$34.95 US
Clear Light Arts, ADL
Heart & Soul Healing™
Institute of Multidimensional Cellular Healing™
Ancient Wisdom Spiritual Centre, ADL
Third Eye of Horus Mystery School™
Post Office Box 1500
Cleveland, GA 30528
800-809-1290 - US only
706-219-1319 - Tel (ofc)
706-243-4747 - Fax
Contact Us